Every month 30 fantastic entrepreneurs and investors
gather for inspiration, to meet new people, have fun and
help each other succeed.
The Goal
Typically at dinner there are 30 entrepreneur executives, a couple investors and other unique guests. We strive for gender balance and a mixture of 1st time, funded, serial entrepreneurs. At least 50% of the attendees are new each month.
A key aspect of the community is asking how we can help each other. Then we take the 30 asks from each dinner along with photos and email to our whole community to help each other. The more helpful people will be invited back more often. Hopefully we can continue building a fantastic and very collaborative NYC tech community where people help each other as much as possible.
The community
+1200 Members
Equal gender balance
CEO: 44%, CTO/VP Tech: 12%, Product/UX: 7%, Investor: 17%, Other 20%
What: Drinks/Dinner. Open bar for 1hr, 3 course meal, wine, etc..
When: Monthly and dates change each month. 10x per yr.
Where: Typically downtown NYC.
Costs: We frequently have partial sponsors. We split the remainder of the costs. ~$50 per person.
Invites: Community referrals are the only way to get invited.

Started: 2011
Sponsors rotating:
Latham & Watkins, Orrick, Softlayer, JP Morgan Private Bank, Silicon Valley Bank, Google Cloud for Startups, Coatue, La Fosse Associates, Brex, and many more…
Please email if you wish to Sponsor.
Photographers:
Ron Haviv, Robert Wright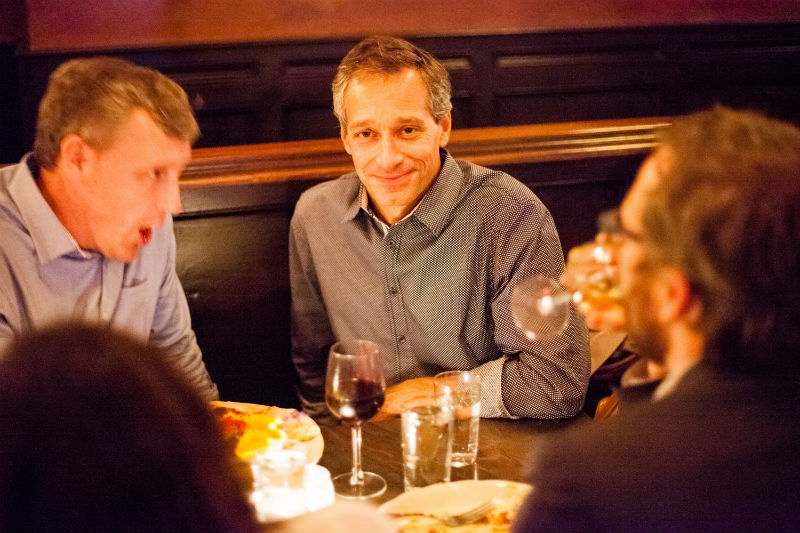 Adam Paulisick, VP, Biz Dev.
Nielsen Catalina Solutions
Adam Rothenberg, Partner
BoxGroup

Adam Quinton, Founder & CEO
Lucas Point Ventures

Adam Soldinger, Head of Programming & Dev. Intel
Alain Miguel, Co-founder and COO
Modalyst
Alan Mark,
Investor
Aleks Jakulin, Founder & President
Ganxy

Alex Taub, CoFounder,
SocialRank
Alex Bangash, Founder, Chairman
Trusted Insight
Alexa Varsavsky, Co-Founder & Dir. Product Modabound
Alexander Shashou, Co-Founder & President
Alice

Alexander Tange, Co-Founder
nextSociety
Alexandre Winter, Founder and CEO at Placemeter
Alexandra Cavoulacos, Founder & COO
The Muse
Alexis Anderson, Head of Partnerships
Bark & Co.
Alexis Tryon, Founder & CEO,
Artsicle
Alia Shafir, Cross Platform Strategy
Bloomberg
Alicia Syrett, Founder & CEO
Pantegrion Capital
Allen Kors, Founder/ CEO
Achieve Lending
Alistair Shepherd, Co-Founder,
Saberr
Allie Mahler, Co-Founder
Be Social Change
Allison Strouse, CEO, Founder
Yarly
Amanda Freeman, Owner
SLT
Amanda Moskowitz, GM,
Mobile Commons
Amanda Steinberg, Founder
DailyWorth
Amol Sarva, Founder,
Knotable
Amy Sample Ward CEO,
NTEN
Amy Kadomatsu
Investor & Co-Founder, President
Roko Labs
Anastasia Leng, Co-Founder,
Hatch
Angelique Augereau, Founder & President
Zafu
Andrea Marcucci, Founder & CEO
Lastlook
Andres Blank, Co-Founder,
Caliber
Andres Glusman, VP Product & Community, Meetup
Andrew Bonventre, Head of Product and Engineering
Poptip
Andrew Bogle, MD
Reva Capital Markets
Andrew Cleland, Venture Partner
Comcast Ventures
Andrew Cohen, CEO Stealth Startup
Samsung Accelerator
Andrew Delorey, Associate,
Silicon Valley Bank
Andrew Fingerman, CEO
Photoshelter
Andrew Montgomery, VP
Silicon Valley Bank
Andrew Shults, Web Engineering Lead,
Oscar Insurance
Andy Parsons, CTO,
McKinsey Academy
Anna Curran , CEO & Founder,
Cookbook Create
Annelies Van Den Belt- Jansen , CEO
DC Thomson Family History
Anson Tsai, Founder & CEO
Cardpool
Antonio Rodriguez , Partner
Matrix Partners
Anuradha Duggal , Founder at
F Cubed
Ari Lewine, Co-Founder & Chief Strategy Officer
Triplelift
Art Chang, CEO
Tipping Point Partners
Aseem Sood, Founder
Newco
Ashantha Indika Kaluarachchi Dir. Marketing/Operations
Socratic Labs
Ashley Swartz, CEO & Founder
Furious Corp.

Asmau Ahmed , Founder & Engineer
ColorModules
Aubrey Levy , Co-Founder & CEO
Mobcaster
Avi Muchnick, Co-Founder Aviary,
Director Products,
Adobe
Becky Carella, Developer,
Bark & Co
Benjamin Kelly, Senior Data Scientist,
Birchbox
Ben La Marca, Managing Partner
Calibrate Group
Beth Ferreira Former COO
Fab.com
Betsy Morgan, President
The Blaze
Bill Reichblum, Founder & CEO,
Kadmus Arts
Bonnie Ryan, Director,
Silicon Valley Bank
Brad Dickason, Director of Product,
Shapeways
Brad Hargreaves, Founding Partner
General Assembly
Brad Svrluga, GP,
High Peaks Venture Partners
Brandon Holley, Founder & CEO,
Everywear
Brooke Moreland , Cofounder & CEO
Fashism
Bruce Eckfeldt , VP Enterprise Development, Cyrus Innovation
Bostjan Spetic, Co-Founder & CPO,
Zemanta
Caitlin Zaino , CEO & Co-Founder,
Porter + Sail
Carlos Eduardo Espinal, Partner
Seedcamp
Carlos Alimurung, SVP, Corp. Business Dev.
Unnivision

Carly Chamberlain, Co-founder CEO
CaterCow
Carly Stockdale, CEO
5 O'Clock Records
Carly Strife, Co-Founder & CEO,
BarkBox
Carla Holtze, CEO, Co-Founder,
Parrable
Carolina Garcia, Co-founder & CEO
Modabound
Caroline Waxler, Festival Director Internet Week, Founder,
Harkness Hall
Carrie Hammer, Founder Carrie
Hammer Custom Apparel
Carrie Seifer, VP Sales
Millennial Media
Chad Lynch, Director of Corp. Business Dev.,
Orrick
Charlie Kemper, Managing Director,
ER Accelerator
Chris O'Brien, Communications Director, BarkBox
Christina Mercando, Founder & CEO
Ringly
Christian Lawless,
Conversion Capital
CindyMcLaughlin, Co-founder, CEO
Style for Hire
Colin O'Malley, Founder & CEO,
Plow
Corie Hardee, Pres. & Founder
Courtney McColgan, CMO
Cabify
Dan Cohen, SVP, Creative Director
Publicis NY
Dan French , Founder, CEO
Consider Solutions
Dan Ruch, CEO & Founder
Rocketrip
Dagny Prieto,
dp user experience & design
Daniel Friedman, Thiel Fellow, CEO
Thinkful
Daniel Loreto, EIR
Venrock
Daniel Michaeli, CEO
SaleMove
Daniel Seal, CEO
AcreWhite
Daniela Perdomo, CEO & Co-founder
goTenna
Danielle Weinblatt, Founder CEO
Take the Interview
Dave Mathews, CEO & Founder
NewAer
Dave McClure, Founder
500Startups
Dave Zohrob, Hacker,
Angel.co
David Aronoff, General Partner,
Flybridge Capital Partners
David Cascino, Founder & CEO,
Thunderclap
David Concannon, Partner,
Latham & Watkins
David Levy, Startup Business Development,
Amazon
David Lifson, Sr. Dir., Product Management,
Poppin
David Pakman, Partner,
Venrock
Deborah Berebichez, VP of Quant Risk Analysis Morgan Stanley
Debra Goldstein, Dir. Marketing CYC Fitness Co-Founder
Flirtexting
Deborah Estrin, Prof. CS, Cornell Tech NYC & Co-Founder
Openmhealth
Deborah Schultz, Founder, Co-Host Tummelvision
Derek Stewart, Director Real Estate,
Indeed
Diana Hardeman, Founder,
MilkMade Ice Cream
Divya Kapasi, Founder,
GoodList
Doreen Bloch, Founder CEO,
Poshly
Elissa Shevinsky, Co-Founder,
Glimpse Labs
Eliza Factor , Director,
Extreme Kids & Crew
Eloise Bune , Founder & CEO,
Gracious Eloise
Emily Lutzker, Founder, CEO,
OpenInvo
Emilie Vasu, VP,
Group Dir. Business Dev., Marketing
Digitas LBi
Eric Jensen, Co-Founder & CTO
pushd
Eric Martineau-Fortin, Managing Partner
White Star Capital
Erick Schonfeld Co-founder
TouchCast
Erik Michielsen, Founder & CEO
Capture Your Flag
Erik Nordlander, Partner,
Google Ventures
Evan Nisselson,
LDV Capital
Ethan Fixell, Comedian,
Dave & Ethan Show
Evelyne White, Co-Founder, CEO
Bookalokal
Fran Hauser, Partner,
Rothenberg Ventures
Frank Kelcz, Advisor, Founder,
Excelerance
Frank Rimalovski, Executive Director,
NYU Entrepreneurial Institute
Fausto Gimondi, CEO GAS, CCO
Real Fun Games
Gaja Zornada, Business Development,
Konstrukt
Giff Constable, CEO,
Neo
Gill Linton, CEO,
Byronesque
Gillian Morris, Founder
HitlistApp
Gillian Munson, CFO
XO Group
Claudia Perlich, Chief Scientist
Dstillery
Glynnis MacNicol, Journalist, Co-Founder
The Li.st
Habib Kairouz, Managing Partner,
Rho Ventures
Heather Marie, Founder & CEO,
72Lux
Helen Cho,
Relocating to Hawaii
Henrik Werdelin, Managing Partner,
Prehype
Hilary Mason, Founder,
Fast Forward Labs
Inaki Berenguer, CEO,
Contactive
Jacob Robbins, Founder,
Burn Note
James Haft, Founder,
PALcapital
Jana Trantow, Associate,
BlueRun Ventures
Jasmin Hume, PhD candidate,
Materials Chemistry at NYU
Jason Glickman, CEO,
Cinema6
Jay Weintraub, Co-Founder,
Grow.co
Jeff Freedman, Vice President, Partnerships, CLEAR
Jeff Stewart, Founder & CEO,
Lenddo
Jennifer Arcuri, Founder,
The InnoTech Summit
Jennifer Litorja, Business & Community Dev. Softlayer Technologies
Jennifer Yen, Founder,
pur~lisse beauty
Jeremy Kagan, CEO & Founder,
Pricing Engine
Jessi Hempel, Senior Writer,
Wired Magazine
Jessica Randazza, CMO,
Offer Board
Jigar Patel, Vice President,
Silicon Valley Bank
Jill Sherman , CEO & Co-Founder,
Modalyst
Jim Hirshfield, Head of Publisher Development, DISQUS
Joana Pacheco, Founder & CEO,
Paperhouses
Jocelyn Johnson, Founder,
VideoInk
John Pasmore, CEO,
Voyage.tv
Jonas Lee, CEO,
PhotoKharma
Jonathan Hyman, Co-Founder & CIO,
Appboy
Jonathan Lehr, Dir. Venture Capital,
Work-Bench
Jonathan Rainey, CTO, Co-Founder,
Thread Media
Jonas Jonsson, Founder & CEO,
Ripple News
Jorge Torres, Kauffman Fellow, VP,
Silas Capital
José de Cabo, Co-Founder,
Olapic
Josh Brody, CEO & Co-Founder,
Booklr
Josh Guttman, Partner,
Softbank Capital
Josh Auerbach, CFO,
Betaworks
Josh Sternfeld,
Film Writer & Director
Joshua Cotton, Head of Technology,
Tablet Hotels
Julia Davis , Co-Founder,
Production Collective
Julia Straus , Director Partnerships,
BaubleBar
Julie Yoo , Co-Founder &
Chief Scientific Officer,
Pymetrics
Justin Smithline, CEO & Co-Founder, FunnelFire
Justin Tsang ,
Investor
Kamal Patel, Sr. Director, HR,
ClearChannel
Karen Moon, Founder, CEO,
Trendalytics
Kathleen Utecht, Venture Partner,
Core Innovation Capital
Kathryn Minshew, Founder & CEO,
The Muse
Kathryn Tucker, CEO & Founder,
Red Rover Networks
Katie Nadler, Founder & CEO,
TopShelf Clothes
Kelly Hoey, Chief Marketing Officer,
Cuurio
Kevin Fleming, Member of the CTO Office, Bloomberg
Khayyam Wakil, Chief Innovation Officer, Immersive Media
Kristal Bergfield, VP Business Operations, Ordr.in Networks
Kristin Calve, Founder,
Topstone Angels
Kelsey Recht, CEO & Founder,
VenueBook
Komal Kushalraj, Co-Founder & CEO,
Numari
Laurel Touby,
Investor & Advisor
Leslie Harrington, Executive Director,
The Color Association
Lily Liu, Co-Founder, CEO,
PublicStuff
Lindsey Marshall Gray, Director,
NYU Entrepreneurial Institute
Lippe Oosterhof, CEO,
Livestation
Liz Bacelar, Founder, & CEO,
Decoded Fashion
Liz Crawford, CTO,
Birchbox
Liza Kindred, Founder,
Third Wave Fashion
LonaDuncan, Founder & CEO,
Style Lend
Lora LeSage, SVP Digital Media,
NBC Owned TV
Lori Mazor, Founder & CEO,
Synthetivity
Lou Kerner, Founder,
The Social Internet Fund
Luca Critelli, CTO,
Picleus
Lyde Spann, Founder,
netamorphosis
Maisie Devine, CEO & Co-founder,
Poacht
Marcel Saba, Founder, Director,
Redux Pictures
Marcy Simon, Founder,
Agent of Change
Mariquel Waingarten, Co-Founder, Director, HICKIES
Mark Birch, Chief Revenue Officer,
Enhatch
Mark Uhrmacher, SVP Software Engineering,
Hearst Business Media
Maria Gotsch, President & CEO,
Marianne Bellotti, CTO,
Exversion
Mariya Nurislamova, Co-Founder & CEO, Scentbird
Marta Wohrle, President,
Accord Media
Matt Littin, CEO,
Lootcakes
Matt Meeker, Co-Founder, CEO,
BarkBox
Matt Ruby, Founder,
Vooza
Matt Taylor, Dir. Engineering,
Tumblr
Melanie Charlton, Founder & CEO,
Closette
Melanie Moore, Co-Founder,
Elizabeth & Clarke
Melissa Stepanis, Market Manager,
Silicon Valley Bank
Megan Cunningham, Founder & CEO,
Magnet Media
Meghan Asha, Partner &
Director of Technology,
Fashion Tech Forum
Meghan Gill, Director of Community & Demand Generation
MongoDB
Meghan Muntean, Co-Founder,
ChickRx
Melanie Schnuriger, GM , Fashion,
Beauty, Lifestyle,
Rightster
Melissa Gonzalez, CEO,
Lionesque Group
Melissa Perri, Founder & CEO,
ProdUX Labs
Merrill Stubbs, Co-founder,
Food52
Micah Craig, Senior Engineer,
20x200
Michael Chernow, Owner,
The Meatball Shop
Michael Horn, Founder, CEO,
Craft Coffee
Michael Levy, Co-Founder CEO,
Chalkable
Michael Tolkin, CEO,
IMAX Labs
Michael Zirngibl, Founder & CEO,
Interact
Michele Spiezia, Founder & CEO,
Middlebrow Media
Mickey Beyer-Clausen, Founder & CEO,
Mental Workout
Mike Brown, Founder General Partner,
Bowery Capital
Mike Moretti, Market Manager,
Silicon Valley Bank
Mike Sigal, Founder & CEO,
Cashflower
Milos Peluffo, Investment Analyst to
Martin Varsavsky,
Jazzya
Monika Kochhar, Founder & CEO,
Smartgift
Murat Aktihanoglu, Founder &
Managing Director,
ER Accelerator
Naama Bloom, Founder, CEO,
HelloFlo
Natalia Oberti Noguera, Founder & CEO, Pipeline Fellowship
Natalia Tango Business Development, CardFlight
Neda Talebian Funk,Co-Founder, CEO,
Fitist
Nicholas Thorne, CEO,
Basno
Nina Sodhi, Founder, Managing Partner, Nackina
Neha Jain, Founder & CEO,
Wherelgo
Nora Abousteit, Founder,
Kollabora
Nnamdi Okiki, Founder,
645 Angels
Offir Gutelzon, CEO & Founder,
Keepy
Oz Etzioni, CEO & Co-founder,
Clinch
Pam Huling, COO,
Blue Chalk Media
Pankaj Jain, Venture Partner,
500 Startups
Patrick de Laive, Co-Founder,
The Next Web
Patrick Williams, CEO,
Dailyworth
Paul Diamond, President,
Skinmint
Paul Gebhardt, Founder CEO,
Bonusbox
Paul Socolow, Recovering SRE & barge operator, Socolow Enterprises
Pavia Rosati, Founder/CEO,
Fathom
Pau Sabria, Co-Founder & CEO,
Olapic
Payal Kadakia, CEO & Co-Founder,
ClassPass
Pearl Collings, Head of Operations,
About
Pete Jimison, Co-Founder,
F#
Pete Soderling, Founder,
Hakka Labs
Peter Kamali, Co-Founder,
Tuplet
Peter Stern,
Investor
Peter Brodsky, Co-Founder,
Hyperscience
Prashant Agarwal, Digital VP ,
McKinsey Digital Labs Design Studio
Rachel Mount Hofstetter, Co-Founder, guesterly
Rachelle Hruska, Founder & CEO,
Guest of a Guest
Rebecca Kantar, CEO,
BrightCo
Rebecca Paoletti, CEO & Co-Founder,
Cake-Works
Reece Pacheco, Co-Founder, CEO,
Shelby.tv
Reshma Sohoni, Partner,
Seedcamp
Richard Greenfield, Managing Director,
Media and Tech. Analyst,
BTIG
Rick Fawcett, CRO,
Olapic
Ricky Berrin, Founder & CEO,
SalesBus
Rishi Khanna, President,
Novus Partners
Rob Go, Co-Founder, Partner,
NextView Ventures
Rob Grant, Engineer,
LayerVault
Rob Platzer, CTO,
Bit.ly
Robert de Laive, Global Business Development,
The Next Web
Robert Levitan, Co-Founder,
Live
Robin Gill, Market Manager,
City National Bank
Robin Rusch, CEO,
BrandWizard
Robin Wilson, Head of Revenue Operations, Vimeo
Rod Banner, Investor, Agent of Change,
3LA
Ron Williams, Co-Founder & CEO,
Simplist
Rosie Lila, Managing Director,
The Culture Embassy
Ruthie Schulder, Partner,
The Participation Agency
Ryan Terpstra, Founder & CEO,
Selerity
Sam Frons, Founder & Ceo
Addicaid
Samia Saleem, UX Director,
Moveline
Sandy Hussain, Head of Marketing,
Bloglovin'
Sandro Pugliese, Vice President, Growth & Marketing Technology,
Rdio
Sara Chipps, CTO,
Levo League
Saskia Miller, Founder,
Kabinet
Sacha Levy, NY Angels,
Investor
Sean Ammirati, Partner,
Birchmere Labs & Ventures
Serge Belongie, Visiting Professor,
Cornell Tech NYC
Scott Carleton, Co-Founder, CTO,
Artsicle
Scott Kurnit, CEO,
Keep Holdings
Scott Rafer, Director: Nanigans,
Boostable, ShopPad, Zemanta
Scott Ostler Mobile Engineering,
Etsy
Shai Goldman, Managing Director,
Silicon Valley Bank
Shala Burroughs, Co Founder & COO, Cloudpeeps
Shaun Springer, Founder & CEO,
Astro
Shauna Mei, CEO and Founder,
AHAlife
Sherman Hu, Enterprise Sales,
Advisor, Investor
Sonia Nagar, Senior Director,
RetailMeNot
Spencer Lazar, Principal,
General Catalyst
Stacy-Marie Ishmael, Editor, News App
BuzzFeed News
Stefan Roever, CEO & Founder,
Geniachip
Steve Lubin, COO,
Immersive Labs
Steve Raizes, SVP, Enterprises & 345 Games, Comedy Central
Summer Bedard, UX designer,
Betaworks
Susan Bird, CEO,
Wf360
Sutha Kamal, EIR,
Technicolor Ventures
Suzanne Xie, Founder & CEO,
Hullabalu
Susie West, Founder & CEO
Sharedserviceslink
Tanya Menendez, COO, Co-Founder,
Maker's Row
Tarek Pertew, Co-Founder & CCO,
Uncubed
Tarikh Korula, Co-founder & CEO,
Seen
Taylor Davidson, Director,
kbs Ventures
Taz Patel, Advisor &
Angel Investor
Ted Cleary, Marketing & Business Dev.,
CRWD investing inc.
Todd Sawicki, CEO,
Zemanta
Tom Melcher, Interim CMO,
MongoDB
Tom Limongello, VP Marketing,
Crisp Media
Tucker Max,
Author, Co-Founder Story Ark
Trevor Owens, CEO,
Lean Startup Machine
Trina Das Gupta, CEO & Founder,
Single Palm Tree Productions
Tristan Louis, GM, Community Finance,
Meetup
Tuan Pham, Director,
Techstars Boston
Ulla Engeström, Founder and CEO,
ThingLink
Vanessa Hurst, CEO & Founder,
CodeMontage
Vijay Pandurangan, Founder & CEO,
Mitro
Vivek Sharma, Founder & CEO,
Moveable Ink
Vivian Rosenthal, Founder & CEO,
Snaps
Wen Wen Lam, Co-Founder,
Jetway, Inc
Won Chang, Founder & CEO,
Programmadic
Yagmur Coker, CTO & Co-Founder,
Pricing Engine
Yaneev Suissa, Venture Capitalist,
New Enterprise Associates
Yanna Sigenlaub, CEO/Co-Founder,
Squar'd
Ylva Rahm, Head of Marketing,
eJero
Yossi Vardi,
Investor